COLOGNE–American retailers and manufacturers may be giving up on the International Housewares Fair here.
International Housewares Fair – Cologne
Despite the sponsor's attempts to revive the faltering exposition this year, the fair received negative reviews from Americans in attendance.
Up and down the uncrowded aisles, conversations were dominated by speculation that the fair in Frankfurt rather than Cologne would become the premiere European housewares exposition.
Some American buyers and manufacturers made last-minute plans to go to the Frankfurt fair being held from Feb. 24 through 29.
"I think it's a disaster," said Pat Bruno, divisional merchandise manager at Carson Pirie Scott, Chicago. "Everyone is going to Frankfurt. Cologne used to be a very powerful show, but I think Frankfurt is going to take over in housewares. This may be the last Cologne."
Plastics suppliers, which held fast in Cologne this year even though suppliers of cookware bailed out for Frankfurt, may also be switching. Rubbermaid, a leading voice in the group that's supported Cologne, is "90 percent sure" it will leave Cologne, according to one of the firm's executives, Hans Jurgen. "It really looks like this is the losing fair," he said. "It is absolutely dead."
Similarly, one American retailer likened the fair to a "graveyard."
The Housewares Fair at Cologne began slipping last year when the sponsor changed the date so that the fair no longer overlapped with Domotechnica, the exhibition of small and major appliances.
The Housewares Frankfurt Fair
The organizer of the Frankfurt Fair opened a housewares exhibition last year, timing it concurrently with the major tabletop fair held in that city. That exhibition attracted suppliers of cookware, gadgets and other housewares who'd become disaffected with Cologne. And this year the Frankfurt Fair attracted a number of Federated's Associated Merchandising Corp. buyers, who had just finished corporate meetings in Munich. Negative reports on the Cologne Fair only help efforts to boost participation in Frankfurt.
Although some of the firms that exhibited at the Housewares USA pavilion, sponsored by the National Housewares Manufacturers Assn., were pleased with the Cologne Fair this year, according to Ron Fippinger, NHMA managing director, it hasn't been decided whether the pavilion will stay in Cologne or move to Frankfurt in 1985.
The size of the pavilion declined to 13 firms this year from an all-time high of 28 several years ago. "The first day it looked dead," said Fippinger, "but as we've found to be typical of European trade fairs, each day has been better and better." Some of the American exhibitors did quite well, he added.
Two hours after the exposition opened on Feb. 8, one manufacturer of plastics–one of the few housewares categories not represented in Frankfurt this year–was ready to throw in the towel. He went so far as to phone Frankfurt to see if there was any booth space available for the show.
Some retailers also tried to make last-minute reservations for Frankfurt, saying they found few new products at the Housewares Fair or Domotechnica. Europe's economy is not yet feeling the upswing necessary to invest heavily in product development.
Many exhibitors tried to create excitement by recoloring their products, which requires little or no expense. The most prominent colors in housewares were red, white and black. Salton introduced a bright red warming tray, while Hammarplast unveiled a collection of red dish drainers. Sona displayed red and white electric teakettles.
Europe's economic troubles were felt by American as well as European vendors. Proctor-Silex formally announced at Domotechnica that is will no longer distribute its appliances in Europe. Arnold Dreyfuss, chairman and chief executive officer, said "even though business was up 5 percent annually over the past few years, we will be closing the plant and distribution center in England."
The strong dollar "makes it impossible to ship and make money," he said. "It puts our product on a non-competitive basis with locally-made products and imports from the Far East." Proctor had a 40 percent share of the two-slice toaster market in the United Kingdom alone, according to Dreyfuss.
In general, Domotechnica was busier than its housewares counterpart in Cologne, despite the scarcity of new products.
Bruno of Carson's said he attended the show with no intentions of buying merchandise–only to look at new products. He said an espresso machine caught his eye because the product "looks like a good unit. It has a new tray that houses the coffeemaker with the cappuccino steam valve. It also has a grinder that measures the right amount of ground coffee for each cup." He cited a large water reservoir as another attractive feature of the unit from GSL.
Melitta introduced two coffeemakers at the show. One, loosely translated, is called Home Made. It's an electric drip model. The second, called Aroma Art, is positioned, the firm said, for those who view coffee drinking as an art. The water reservoir smacks a bit of Memphis design, with a red and white striped stick that bobs up and down to indicate the number of cups being made. No one at the firm would indicate whether the models would be introduced at U.S. shows this spring.
Moulinex, meanwhile, introduced a line of compact hair dryers, and a deep fryer with a drain basket to keep the oil free of crumbs. Jeffrey Reigle, president of Regal-Moulinex, said the line will be greatly expanded in the United States, but declined to say which products might be made available there.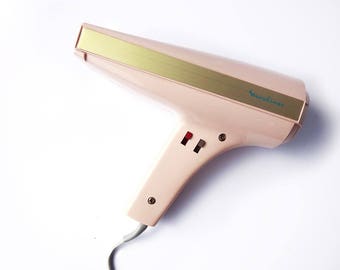 Braun added electronic speed control to one of its food processors and showed some new personal care items.
Krups seems to be looking at the American market more aggressively than its competitors. At spring shows in the United States, the firm is entering the mixer market, according to Michael Kramm, general manager for Robert Krups North America. The models will include the 3-Mix 4000, which has a three-litre gear-driven bowl, and three speeds. The item can be used as a hand mixer or can be attached to a base and used with various attachments. Prices have not yet been set, Kramm said.
Krups also showed an electronic timer with a memory available in red. The product is set to retail at about $20. Terraillon also offered a sleeker version of an electronic timer in black, red or white at the same price. It can be used in the kitchen. Both products will be available at upcoming U.S. shows.